Howdy, cake enthusiast!
We love our work! As artists, collaborators, entrepreneurs, and as husband and wife we get to design playful and elegant pieces of art that help you celebrate some of the most important days of your life.

After a decade of creating exquisite cakes in Southern California, we are so excited to finally be able to share our Cake Jewelry all over the world via eCommerce. We love helping you celebrate in style, and it is our goal to provide unforgettable sparkle and elegance for your cake on any budget.
Tammy And Luke - a sweet collaboration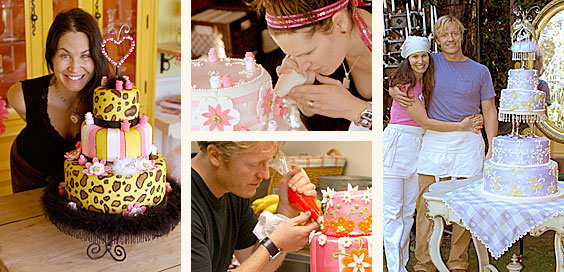 Very Different Cakes began in 1997 as artist Tammy Massman-Johnson's unique cake design company, catering to clients with a serious sense of style. Shimmering in pearl dust, sparkling with Swarovski Crystals, and towering on custom wrought iron stands, her edible works of art quickly enjoyed coverage in high-end wedding and style magazines.
In 2003 Tammy's husband Luke - a frequent cake design collaborator - crafted a monogram cake topper in large Swarovski rhinestones. It was breathtaking and they both recognized an opportunity.
Luke stepped away from his career as an Art Director to work with Tammy on their new product and pursue a mutual dream: a lifestyle of creative collaboration with each other.
An Introduction to Very Different Cakes
Very Different Cakes is recognized as one of the most stylish and colorful cake design studios in the world. We are loved for our signature whimsical elegance, and for pioneering a hot new niche in wedding and event style – Bling!

Our Cake Jewels evolved from a wonderful problem. Two of our most extravagantly bejeweled wedding cakes – for Emmy-winning TV star Mariska Hargitay and for hip LA jeweler Tarina Tarantino - landed in InStyle magazine. They instantly became the "sparkle seen 'round the world" as the wedding and lifestyle media had a field day with luscious images of our work.

We soon found ourselves fielding calls from clients, press, and prospective vendors in Houston, New York, Europe, The Middle East, Australia, Russia, and Japan. Everyone wanted our extraordinary cake style, and yet we couldn't ship our heavy, delicate cake towers.

Then we had our 'A-ha!' moment: create a line of Cake Jewels in our signature style that bakers and brides can completely customize online so they can bling their own cakes!

Today, we offer two types of product: Cake Jewels (online worldwide, starting at $2) and world class cake design (Los Angeles only, starting at $2500).

Now, anyone anywhere in the world and on any budget can celebrate in style by adding our whimsically elegant sparkle to their cake and event!





We've created a stunning line of hand-made Swarovski Crystal Monograms, Hearts, Flowers, and Butterflies which can all be customized on our site. They're all thoughtfully designed to be combined and arranged into gorgeous suites of Jewels, so let your creativity soar.

Monograms - Three stylish fonts in two sizes, with fourteen color choices.

The most sparklicious cake topper available anywhere!



Hearts - Say it all with one symbol, or use a Heart to join two Monograms. Two sizes and all the same colors that are available for Monograms.

Flowers - A crystal garden of Love is always in bloom. Pick a single stem or plant a garden in six styles and over a dozen colors, with options for leaf and stem.

Butterflies & Other Garden Friends - Bring your Crystal Garden to life with a flock of Butterflies, Dragonflies, Hummingbirds and Ladybugs. Sit them on your Monogram or Heart, or put 'em in your hair in a variety of sizes and colors.

Precious Metals - NEW! Make a statement of style with our boldly graphic toppers. Each playful piece shines in a polished chrome finish and instantly crowns your cake a sculptural artwork. Our Figures, Words, and Symbols are solidly perched on a sturdy integrated stem.

These Cake Jewels are absolutely breathtaking, incredibly stylish, and fun. And best of all - every piece is an heirloom keepsake.




Sparkling bling is the hottest trend in cake and event design, and the media can't get enough! We have enjoyed enthusiastic coverage in over 70 magazines, television appearances, and websites from around the world - all completely unsolicited.

In fact, several of the most style-savvy media - Angeleno, Bride's, DailyCandy.com, Grace Ormonde, and InStyle - cover our work perennially.

Most recently, The Food Network showcased our Cake Jewels in their December 30th episode of Sugar Rush, "Sparkle and Glitter".



•

ABC's The View

•

Angeleno

•

Bride's, Bride's Receptions, & Bride's Southern California

•

Columbia Tri-Star Pictures' "Bewitched!", starring Nicole Kidman & Will Farrell

•

DailyCandy.com

•

Elegant Bride

•

The Food Network "Sugar Rush", "What's Hot: What's Cool", & "Roker on the Road"

•

Grace Ormonde Wedding Style

•

InStyle & InStyle Weddings

•

The Lifetime Channel "Instant Weddings"

•

Los Angeles Magazine

•

Los Angeles Weddings

•

Modern Bride

•

People

•

TheKnot.com & The Knot Weddings

•

The New York Times Fashion Edition

•

Town & Country

•

VH1's "The Fabulous Life: Celebrity Weddings"


In February we'll be filming in our studio for The Women's Entertainment Network. Stay tuned!

Of course, wherever there's paparazzi, there's a star. We've been fortunate enough to serve our cakes and Cake Jewels to a few celebrities:



•

Janet Jackson

•

Mariska Hargitay

•

Quincy Jones

•

Lisa Rinna

•

Jason Bateman

•

Alyson Hannigan

•

Monique Lhuillier

•

Robert & Natasha Wagner

•

Tarina Tarantino

•

Aaron & Julia Sorkin

•

Jermaine Dupri

•

Breckin Meyer



| | | | |
| --- | --- | --- | --- |
| | | | |
| | What are clients and vendors saying? | | |

We are so grateful for the flood of kind words our clients and vendors send us. Here's some of our favorite Bling Brag!

"Dear Tammy, I can't begin to tell you how magical you made my wedding. Besides my husband, the cake was my favorite part. You are a magician. It was beyond my wildest dreams. People are still talking about it. It is in my heart, you're a goddess." - Mariska Hargitay, actress, Law & Order SVU

"Your work is whimsical, delightful, vibrant and exactly the sort of style I love. I look forward to featuring your work and a monogram again very soon." - Maria McBride, senior editor, Bride's Magazine

"Thank you for all your efforts in helping us help our brides! I am so excited to be working with you all. Your products are amazing & I look forward to doing a lot of business with you in the future!" - Megan Chumlea, Frosted Art Bakery, Dallas

"I am speechless! This is gorgeous!!!!!!!!!!!!!!!!!!! Thank you so much! You're the best! This isn't the last you've heard of me, I assure you! Cheers! =)" - Terre Russano

"This is SPECTACULAR!!!!!!!!!!!!!!!!!!! I can't tell you how excited I am about this. ... when I saw this I said I had to have it. Thank you soooooooooooooooo much ... Jorge is going to die when he sees it." - Maria Perez

"Our monogram ... is GORGEOUS!!! Wow. I knew that it would be beautiful, but it really took my breath away." - Lindsay Poth

"These are by far the most unique and beautiful cake toppers I have come across." - Sharon

"I have been looking at monogram cake toppers all over the internet. These are the most beautiful by far!" - Caroline Williams

"WOW!! I knew you had to have an art background!!! I have honestly not seen ANYTHING like the cakes you two make- UNBELIEVABLE!!! Thanks again for all of your quick responses and help- you guys were so nice and easy to work with." - Heidi Williams

"LOVED THEM! THEY ARE ABSOLUTELY BEAUTIFUL. THANK YOU FOR YOUR PROFESSIONALISM. YOU ARE FIRST CLASS!!!!!!" - Dana Eubanks Sowell

"I couldn't have been happier. Everybody LOVED your work. The lady who baked the cake wanted to purchase some flowers. I'll be calling to add a few things to change it up for next year's birthday cake. Thanks again!!!!" - Courteney Myrick, 3-time customer

"--it is truly gorgeous!! it will definitely steal the show. I hope that it will top my grandchildren's cake." - Annette Herrington

"I am just so impressed with your customer service! I can't believe how simple you made this for us. I have been so worried about finding these crystals and I have looked everywhere including lots of websites. Thank you! Thank you! Thank you!" - Vicki Pillow

"I cannot thank all of you enough for the incredible time and attention to detail you put into our wedding day. Your meticulous follow up ... your relentless pursuit of perfection made our day just that - PERFECT!" - Jill Schlimme

"What can I say? It's beautiful. It's everything I imagined and even more sparkly! What a surprise to have received it so soon. Thank you so much for taking the time to help me choose my colors. I love it! You've made my day." - Erin Halloran

"Everything looks great. I am so excited – it's crazy - I am having more fun with this cake stuff than I am with all of the other wedding plans." - Julie Franks

"A+. I worked directly with Luke ... and he was a doll. I loved my cake topper and ... I had the most perfect cake and they are an A+ for sure!" - customer comments TheKnot.com chatroom

"I imagine Heaven calls you when celebrating... you have taken it to the ultimate level!" - Sheree Lillie








How do I use Cake Jewels?

© Hillary Maybery Photography

As a Wedding & Event Pro, you help your clients realize their fantasy vision of their celebration. For clients who are inspired by our sparkle, you are in a position to help them coordinate our Cake Jewels into their cake, flowers or any other elements of their event.

Weddings, Bat Mitzvahs, Quinceañeras, anniversaries, showers and first birthdays all deserve to be celebrated in style. Signing up with our new Vendor Commission Program instantly puts Very Different Cakes in your portfolio, and all our creativity and our white glove customer service at your disposal.

If you become a Very Different Cakes vendor, you'll not only be able to offer your clients something they already love, but you'll be generously rewarded for any purchase your clients make on our site.


"This is SPECTACULAR!!!!!!!!!!!!!!!!!!! I can't tell you how excited I am about this. ... when I saw this I said I had to have it." - Maria Perez


Here's some tips ...

Wedding & Event Coordinators
Add stunning sparkle and drama to any event. Bling your bride's cake, sparkle her hair, her flowers, the table numbers. Use a crystal Flower in each napkin ring, or gift box them as favors. Frame two kissing Hummingbirds with a Heart for an anniversary or Valentine's cake. Put your most stylish clients over the moon with a Monogram triplet in a whimsical garden of Flowers.

Bakeries
Incorporate our Cake Jewelry into your designs for a sparklicious masterpiece at any scale and on any budget. Put a single Flower in a cupcake for a first birthday. Create a pattern of Flowers to compliment your most elaborate piping and fondant designs. Or keep the cake stylishly simple and let a single extraordinary Monogram or a few Butterflies do the talking. Less work, more profit!

Florists
Accent your bride's bouquets with a couple of small crystal Flowers. Hide a good-luck Ladybug in the groom's boutonniere. Use a thick satin ribbon to braid a single large Flower into a hairpiece. Float some Butterflies and Hummingbirds around your table arrangements, or create and entire crystal garden centerpiece. All our stems are floral wire - cut 'em, shape 'em, and wrap 'em anywhere that needs a splash of sparkle.




| | | | |
| --- | --- | --- | --- |
| | Are these Cake Jewels as good as everyone says? | | |

We make the largest, finest quality, and most whimsically elegant Cake Jewels available anywhere. We have a few imitators, but no competitors!


"These are by far the most unique and beautiful cake toppers I have come across." - Sharon

"I have been looking at monogram cake toppers all over the internet. These are the most beautiful by far!" - Caroline Williams


We use exclusively Austrian Swarovski Crystals – the clearest, most sparkling full-lead crystal in the world.

We've created all our own designs and assemble every piece in our Hollywood studio. No sweatshops, no outsourcing.

Our Cake Jewels are heirloom-quality art pieces, intended to be displayed, enjoyed, and even re-used for years!


"–– it is truly gorgeous!! it will definitely steal the show. I hope that it will top my grandchildren's cake."

- Annette Herrington

"I couldn't have been happier. Everybody LOVED your work. I'll be calling to add a few things to change it up for next year's birthday cake. Thanks again!!!!"

- Courteney Myrick, 3-time customer




| | | | |
| --- | --- | --- | --- |
| | Does Very Different Cakes still make cakes? | | |

Yes, we still take a limited number of very high-end cake projects for clients with extraordinary style. Our world class cake design and creation includes extensive design consultation, the finest recipes and ingredients, custom wrought-iron stands, and our full line of Cake Jewels - including completely custom pieces.

For Los Angeles clients, starting at $2500